The 10 x 10 Challenge is an exercise I established in 2015 to help encourage myself to get more creative with my clothes during a 30 Day Shopping Fast. The concept is essentially a micro capsule closet that you work with for 10 days, trying new looks and styling your clothes in ways you might not otherwise try.
---
THE BASIC GUIDELINES
---
PICK ANY 10 ITEMS FROM YOUR CURRENT CLOSET
STYLE THOSE ITEMS INTO 10 DIFFERENT LOOKS
USE 10 DAYS TO DO IT
HAVE FUN AND DON'T TAKE IT TOO SERIOUSLY!
I say 'guidelines' instead of 'rules' because this is meant to be a fun and helpful exercise, not a daunting or rigid task. You can limit yourself to only those 10 items for the full 10 days or just wear those items to work or after work. Take the weekend off and do 10 business days (that's what I tend to do). You can try a smaller challenge first if you prefer with only 6 items over 6 days or up the ante and choose a few more items to style over a longer period (I've done 20 pieces over 20 days before).
Do whatever makes it feel manageable but still be sure to challenge yourself!
---
WHEN IS THE NEXT CHALLENGE STARTING?

JANUARY 19th, 2018

PLUS! CAROLINE OF UNFANCY, AKA OUR CAPSULE CLOSET GURU, IS JOINING ME! YAY!
---
ARE YOU UP FOR IT? WONDERFUL! TAG YOUR POSTS WITH #WINTER10x10 SO WE CAN SEE! Feel free to tag your shots under #StyleBee10x10 and #UnFancyRemix too so they're in the general library.
NEED MORE CONVINCING? NO PROB! SEE ALL THE INFO BELOW.
---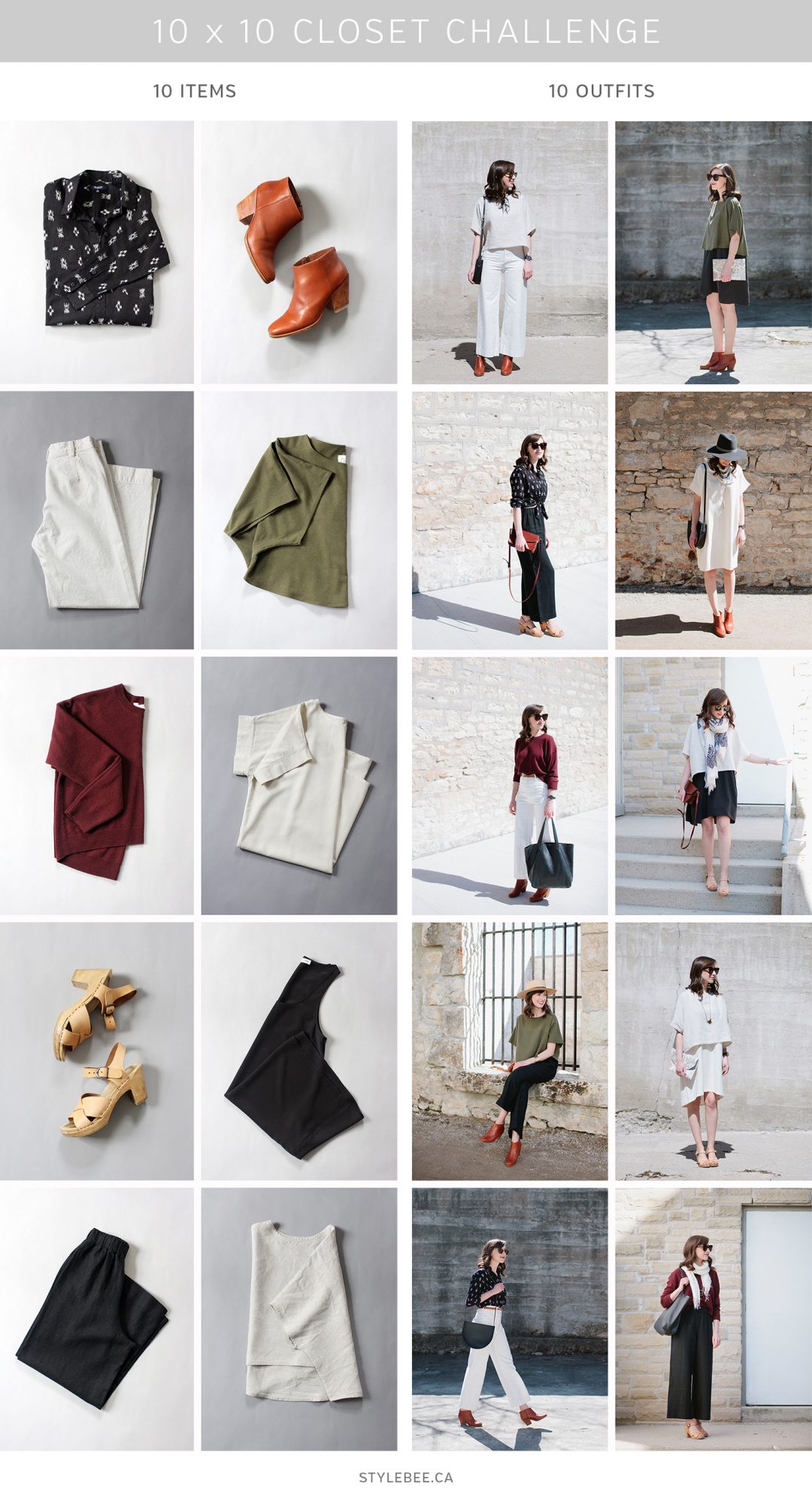 ---
WHAT IS INCLUDED?
---
Any core closet item you choose counts as a part of your 10 items. For example:
TOPS
SWEATERS
PANTS
DRESSES
SHOES
COATS
Keep in mind these are not hard and fast rules! If you really feel like you need all your shoe options that's OK, don't include shoes this time around and add an extra top or bottom instead. No judgement shall be passed 😉
---
WHAT IS NOT INCLUDED?
---
Any accessories or jewelry you add to a look does not count as a part of your 10 items. For example:
Hats
Bags
Scarves
Necklaces
Gloves
Jewelry
---
BEGINNER'S FORMULA
---
If you're a little bit stumped as to where to start with your items consider this formula:
2 Pairs of Shoes (1 heel + 1 flat)
4 Tops (Consider pieces that layer well like a fitted long-sleeve, a button-down and a cardigan)
1 Dress
2 Bottoms
1 Top Layer
A few other tips for choosing items:
Check the forecast and pick practical items for the weather.
Don't give yourself too much time to choose. Try to make the call in under 30 mins. But if you need more, that's cool too!
Go for an easy, lean colour palette. Think neutrals, denim, white, black and grey with 1 or 2 colours.
Reach for your favourites first and then add one or two pieces you'd like to wear more or aren't sure about.
Avoid Dry Clean Only items or pieces that are a pain to launder so if need be you can refresh them during the 10 days.
---
EXAMPLE 1 – SPRING: 10 ITEMS
---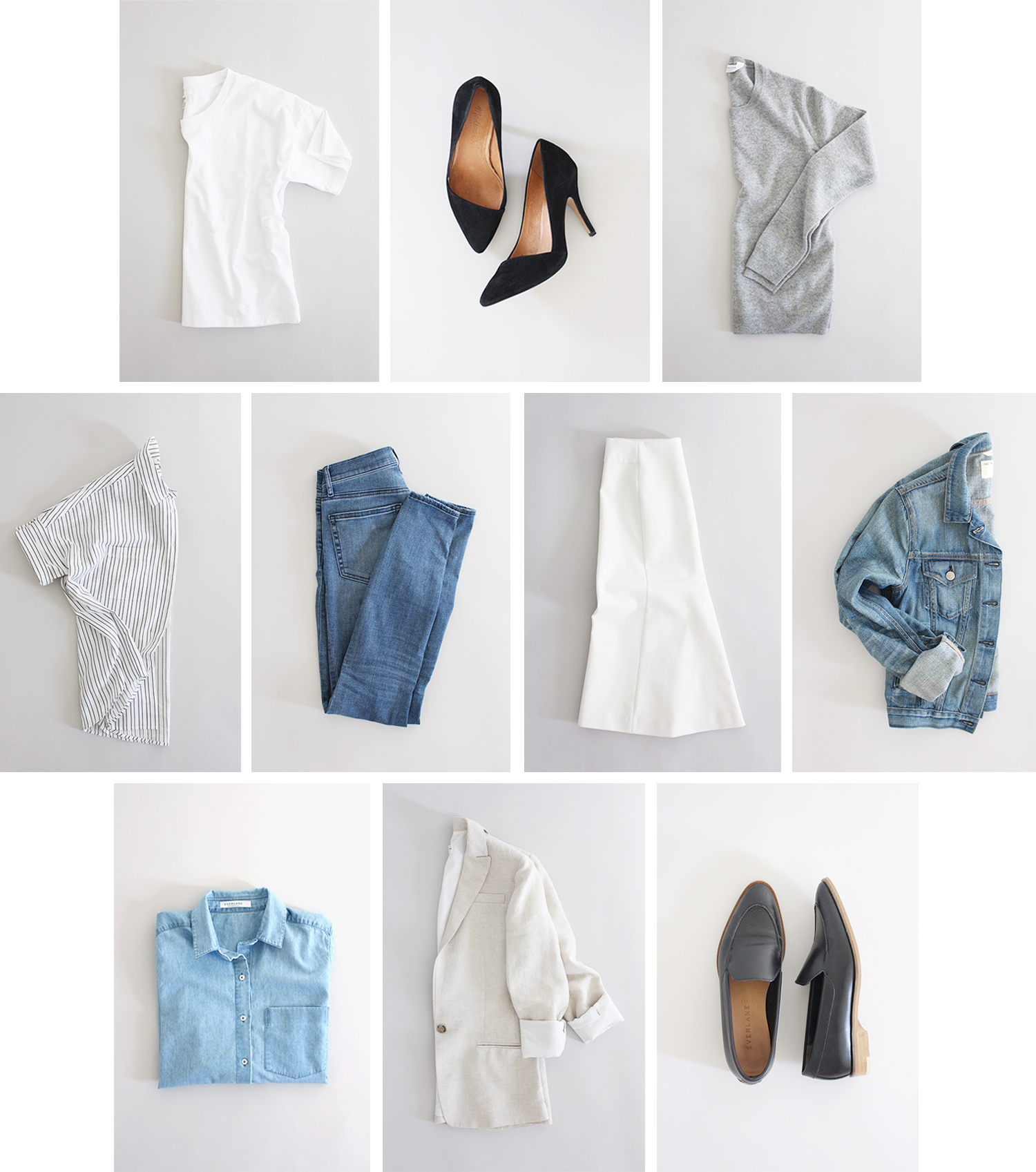 ---
EXAMPLE 1 – SPRING: 10 LOOKS
---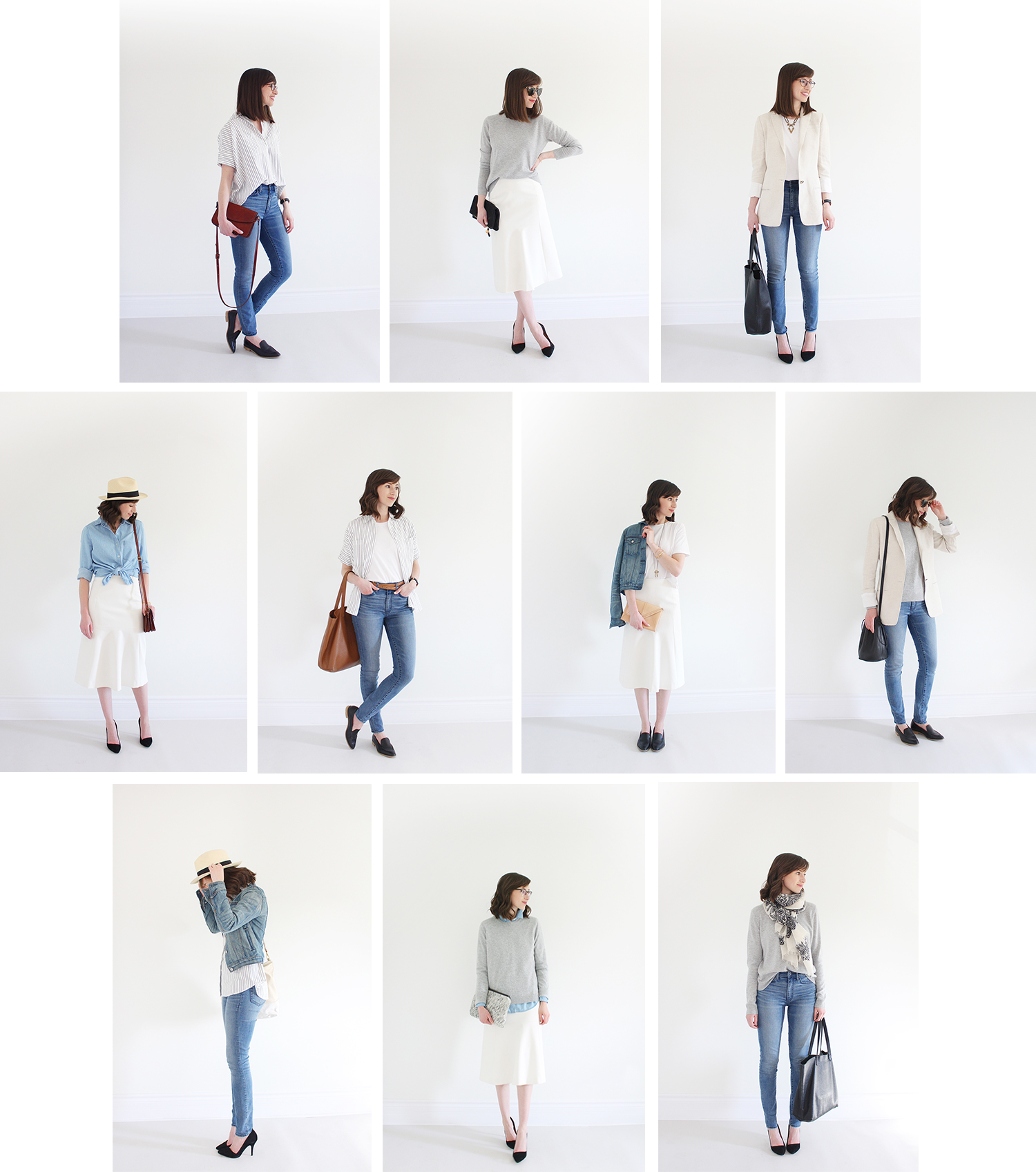 ---
EXAMPLE 2 – FALL: 10 ITEMS
---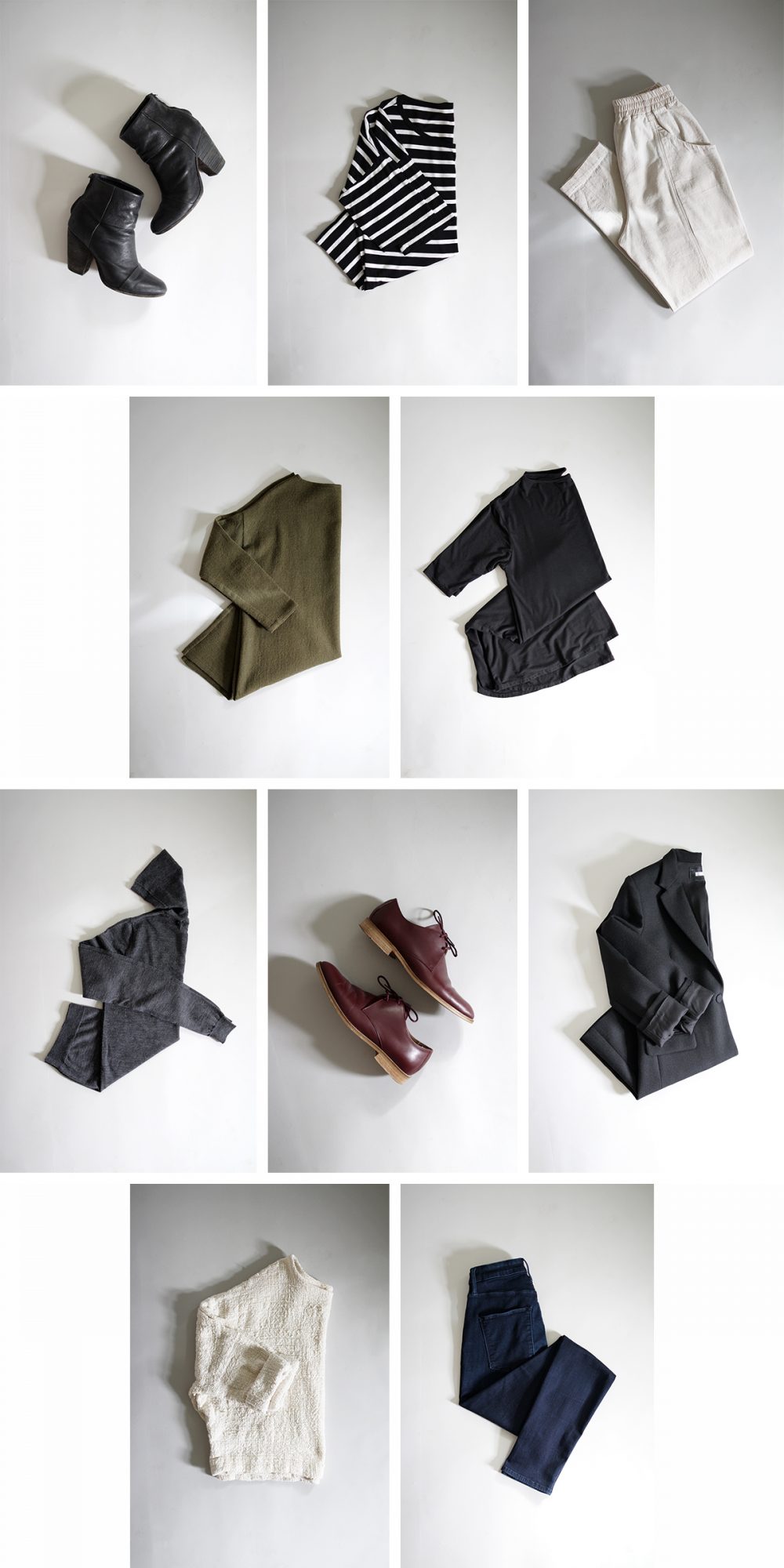 ---
EXAMPLE 2 – FALL: 10 LOOKS
---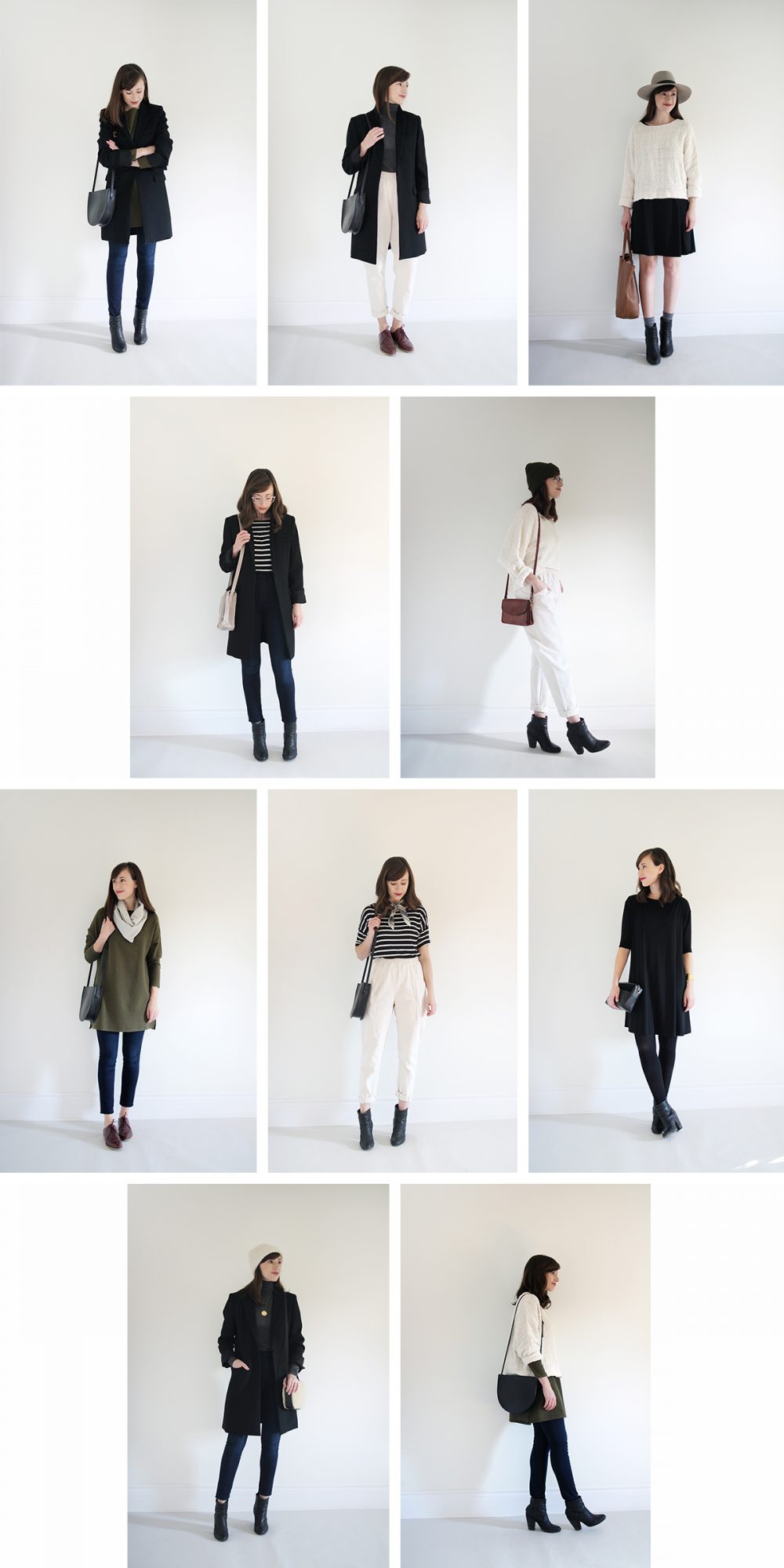 ---
MORE PAST EXAMPLES
---
So far I've done 7 different variations of this exercise:
SPRING '15 10 x 10 – 10 items to make 10 outfits (shown above)
SUMMER '15 20 x 20 – 20 items to make 20 outfits
FALL '15 12 x 12 – 12 items to make 12 outfits
SPRING '16 10 x 10 – 10 items to make 10 outfits
FALL '16 10 x 10 – 10 items to make 10 outfits (shown above)
WINTER '17 10 x 10 – 10 Items to make 10 outfits (excluding coats for versatility)
SPRING '17 10×10 – 10 Items to make 10 outfits (excluding coats for versatility)
SUMMER '17 10 x 10  – 10 Items to make 10 outfits
FALL '17 10 x 10 – 10 Items to make 10 outfits
Other bloggers who've taken the challenge:
---
WORKSHEET
---
If you're like me and feel the need to plan your 10 x 10 Challenge out on paper then you're in luck! DOWNLOAD this handy worksheet to help you get started and to make notes on throughout the challenge.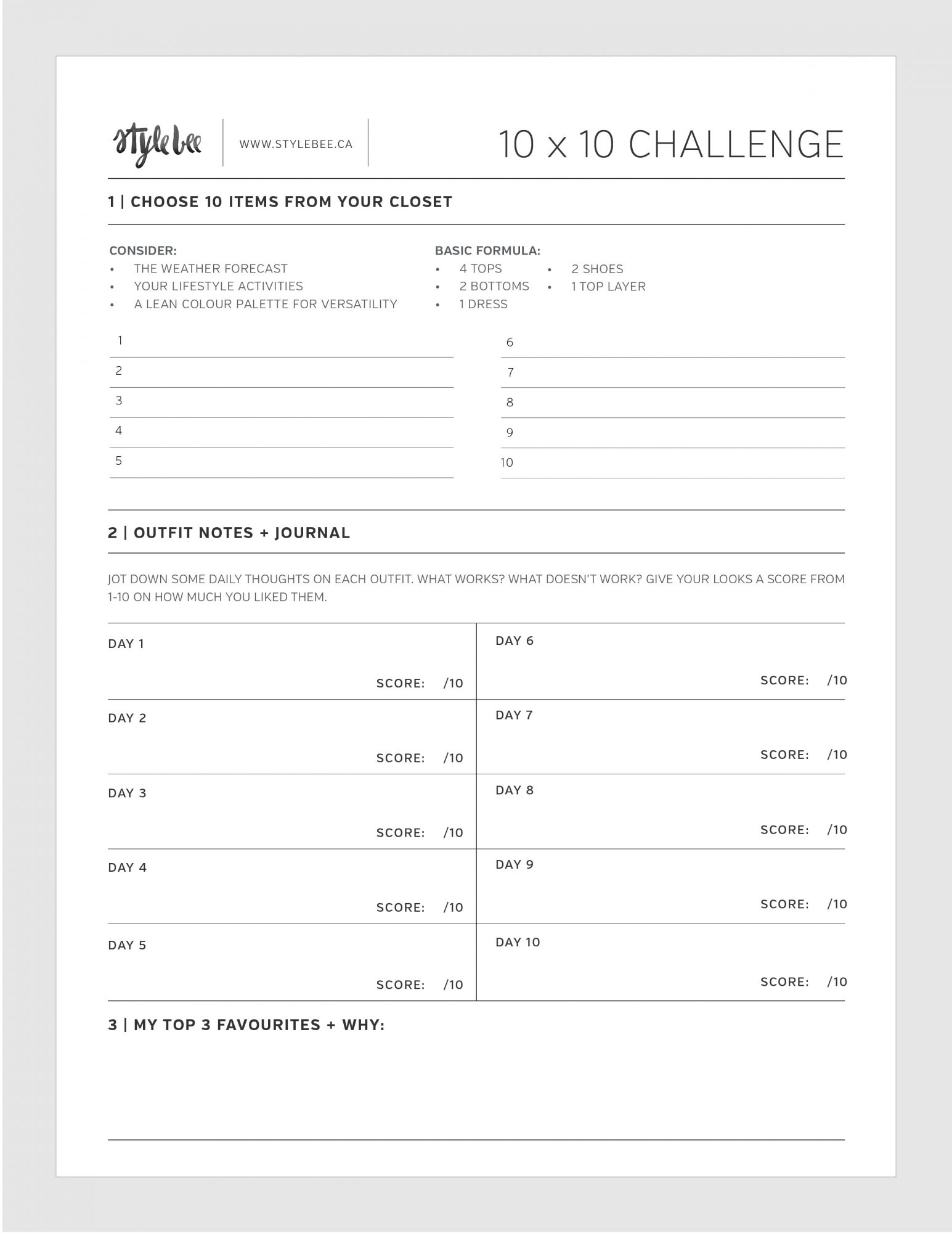 ---
WHO IS THE CHALLENGE FOR?
---
ANYONE! But more specifically, anyone looking to:
Take a break from shopping.
Reinvest in their existing closet.
Test their style creativity.
Make their closet work harder.
Find a better sense of personal style.
Test out a capsule closet.
Establish a couple of go-to uniforms.
Pack for a trip. 10 x 10 Challenges are ideal for travellers looking to pack lighter.
---

---
WHY IS IT SO GREAT?
---
Well, I'm pretty biased about this but I do believe objectively that this challenge is a very effective way to get more out of your closet, save some money and dig deeper into your personal style.
It's always surprising to see the looks that result from the exercise, even after doing it 5+ times! It's also remarkable how little we really need to find style and closet contentment. Plus, I guarantee you'll finish the challenge with at least 1 new look you'll want to add to your go-to repertoire.
It's also a perfect way to prep for a trip! All you over-packers (that used to be me for sure) will soon appreciate how little you need if you pack smart and style creatively.
After reading the candid findings from dozens of women all over the world, I've found the most common takeaways are:
I gained a better sense of my personal style.
I had a style breakthrough and found a new silhouette or look I would have never tried but love.
I really don't need a huge closet (or to shop a lot) to satisfy my style.
---
HOW TO PARTICIPATE
---
FOR THE JANUARY 19th CHALLENGE: Tag your photos and posts with #WINTER10x10 
ONGOING: I started the hashtag #stylebee10x10 for anyone to share the results of their own 10 x 10 challenges, whenever you decide to do one. It's a great way to connect with other easy-going, stylish folks and a fabulous feed for style real-life inspo!
Simply add the hashtag(s) to your posts and we can see what you're up to! I try to check the feed often and touch base with a few people who have shared a fresh look or a great insight. I always include a few of my favourite shots in my recap posts too!
Don't want to post about it? No worries, you certainly don't have to share your outfits or findings if you're not into that. You can simply follow along and try it out privately if you prefer.
---
HERE ARE A FEW GREAT SHOTS FROM THE FEED
---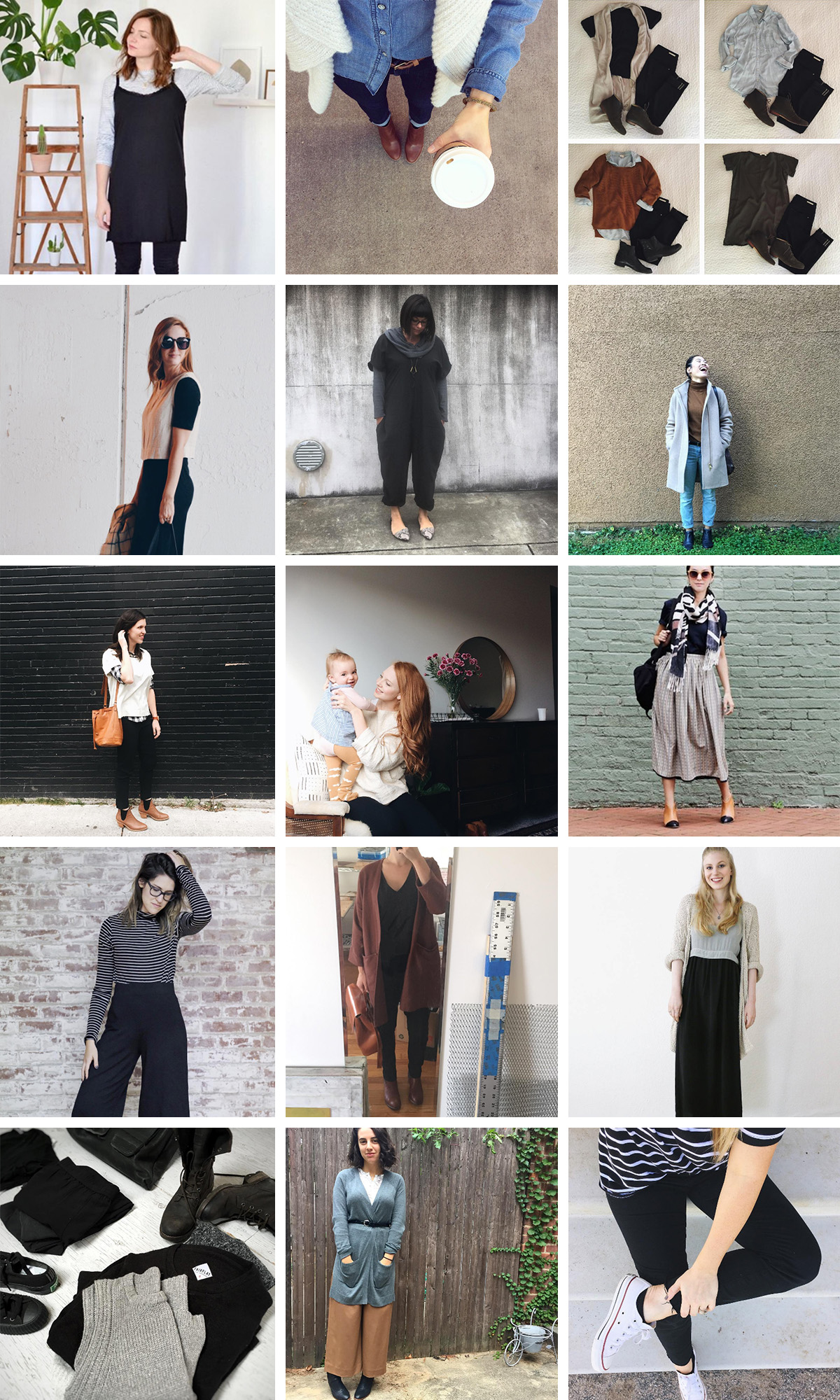 ---
 PLEASE FEEL FREE TO LEAVE ANY QUESTIONS BELOW.
---
 HOPE TO SEE YOU ON FRIDAY, JANUARY 19TH!