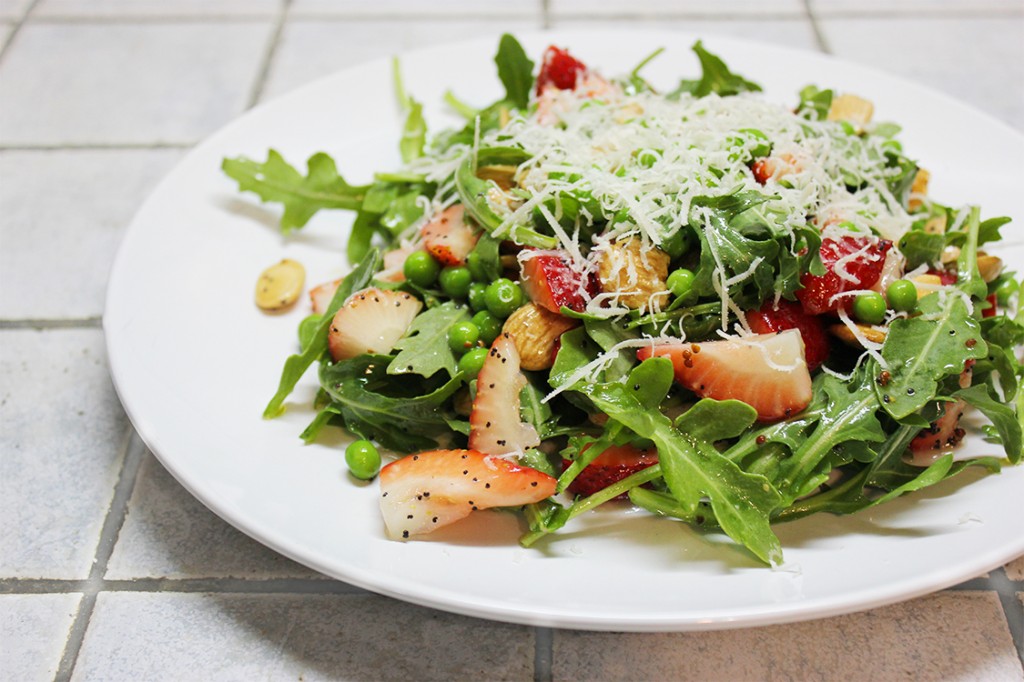 The last Honey Pot recipe was inspired by the latest issue of Bon Appetit and this one is taken right out of Page 121. I am certainly no gourmet chef but I would dare to claim gourmand status. So I am always on the look out for delicious recipes I can make and devour to my heart's content at home. I also have an undiagnosed case of the constant munchies so I try look for recipes that are on the healthier end of the spectrum. Anyways, this salad is my new favourite salad, EVER! It's honestly just incredible and a must try. I don't even like green peas typically but they are the heros in this flavour compendium.
Ever so slightly altered from the original:
1/2 cup Marcona Almonds (I found them at Loblaws, PC makes them under their black label)

2 Tbsp. white wine vinegar
2 tsp. whole grain mustard
1 tsp. sugar
1 tsp. poppy seeds
1/4 cup extra virgin olive oil (this is the alteration as BA called for veggie oil)
1 cup frozen peas, thawed
3 cups baby arugula or watercress
8 oz. fresh strawberries, hulled, halved (approx. 2 cups)
1 cup pea tendrils aka. pea shoots (I left these out and didn't miss them or recall ever tasting them in my life.)
1 oz. Parmesan shaved
Kosher salt and pepper to taste in dressing
Preheat oven to 350 degrees. Spread out almonds on a small rimmed baking sheet and toast, tossing occasionally, until golden brown, 8-10 mins. Let cool.
Whisk vinegar, mustard, poppy seeds, and sugar in a large bowl. Whisk in oil, season with salt and pepper.
Cook peas in a large sauce pan of boiling water until bright green and tender (they will float to the top when done), approx. 2 minutes. Drain and transfer to a colander set in a bowl of ice water. Drain. This will prevent them from getting overcooked on their own. You really dont want them to be mushy.
Add arugula, strawberries, peas, almonds and pea tendrils to vinaigrette; toss to coat and top with parmesan when plated. Taste, swoon, devour.